Tags: apiedit Visual edit

 

(4 intermediate revisions by 2 users not shown)
Line 1:
Line 1:
−

[[File:Elena_michaels.jpg|thumb|left|Laura Vandervoort is Elena Michaels.]]In [[Bitten - TV Series|Bitten]] we see not only the pack having to defend itself in an attack from the mutts, but also watch Elena struggle with trying to have a normal life in Toronto with boyfriend [[Philip McAdams]] while trying to deny her life back at [[Stonehaven]] with former lover [[Clayton Danvers]]. Unlike the books, Elena is a photographer

+

[[File:Elena_michaels.jpg|thumb|left|Laura Vandervoort is Elena Michaels.]]In [[Bitten - TV Series|Bitten]] we see not only the pack having to defend itself in an attack from the mutts, but also watch Elena struggle with trying to have a normal life in Toronto with boyfriend [[Philip McAdams]] while trying to deny her life back at [[Stonehaven]] with former lover [[Clayton Danvers]]. Unlike the books, Elena is a photographer

 
 
 

=== Season One ===

 

=== Season One ===

Line 7:
Line 7:
 

=== Season Two ===

 

=== Season Two ===

 
 
 
+

[[File:S2.jpg|thumb|left]] After Phillip's death and finding his head on her pillow, Elena was bent on revenge yet at the same time she reconciled with Clay. Elena was kidnapped by Alisteir, a <span style="font-weight:normal;">warlock who was in charge of the Undoing and bent on revenge agains</span>t his mother Ruth Winterborne, a witch who abandoned him after giving birth to him. Alisteir forced Elena to undergo the Change in front of Rachel who was previously unaware that both her and Logan were werewolves.

−

[[File:S2.jpg|thumb|left]] The series was picked up for a second season.

 
 
 
 

===Season Three===

 

===Season Three===

 
+

In season 3, we find out that Elena is actually the daughter of Sasha Antonv and Roman's daughter Natalia who Sasha left at a hospital after her mother was killed by her own father and Elena's grandfather, the former Russian alpha who was killed by Jeremy. After Jeremy steps down as Alpha, Elena takes over and burns down Stonehaven while leaving to start a brand new life with Clay and her brother Alexei.

−

The Series was picked up for a third and final season.

 
 

[[Category:Bitten TV]]

 

[[Category:Bitten TV]]

 

[[Category:Bitten Characters]]

 

[[Category:Bitten Characters]]
---
Latest revision as of 20:55, 10 December 2016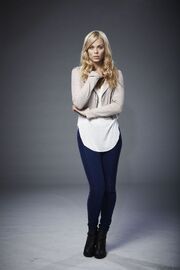 In Bitten we see not only the pack having to defend itself in an attack from the mutts, but also watch Elena struggle with trying to have a normal life in Toronto with boyfriend Philip McAdams while trying to deny her life back at Stonehaven with former lover Clayton Danvers. Unlike the books, Elena is a photographer instead of a journalist.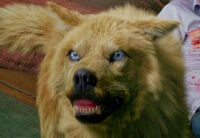 Season One[]
Season 1 premiered on January 13, 2014 and ran through April 5, 2014. The first season consisted of 13 episodes. It appeared on the Canadian Space network and the American SyFy network. The series can now be viewed in full on American Netfilx.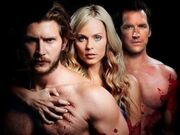 Season Two[]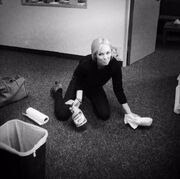 After Phillip's death and finding his head on her pillow, Elena was bent on revenge yet at the same time she reconciled with Clay. Elena was kidnapped by Alisteir, a warlock who was in charge of the Undoing and bent on revenge against his mother Ruth Winterborne, a witch who abandoned him after giving birth to him. Alisteir forced Elena to undergo the Change in front of Rachel who was previously unaware that both her and Logan were werewolves.
Season Three[]
In season 3, we find out that Elena is actually the daughter of Sasha Antonv and Roman's daughter Natalia who Sasha left at a hospital after her mother was killed by her own father and Elena's grandfather, the former Russian alpha who was killed by Jeremy. After Jeremy steps down as Alpha, Elena takes over and burns down Stonehaven while leaving to start a brand new life with Clay and her brother Alexei.