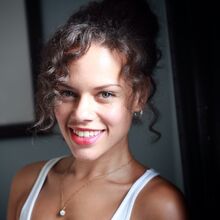 Genelle Williams (born February 18, 1984) is a Canadian actress who is best known for her roles as Kim Carlisle in Radio Free Roscoe, as DJ in The Latest Buzz, and as the innkeeper Leena in Warehouse 13. She plays the role of Rachel Sutton, Logan Jonsen's girlfriend in Bitten.
Career
[
]
Williams expressed interest in acting since she was young, and studied acting with Dean Armstrong, who played one of the principal characters in the Showtime series Queer as Folk.
Williams became famous in Canada when she joined the cast of Family's Radio Free Roscoe, which aired between 2002 and 2004. In 2003, she played Kim Carlisle, a DJ for "Cougar Radio", and love interest of Robert McGrath. Over three years, she also played multiple roles on the popular CTV series Degrassi: The Next Generation.
The two programs began to air in the United States late in 2004 on Nickelodeon's teen network, The N, and Williams began to gain celebrity status in the United States among teenage audiences.
After taking a break in her career, she appeared in the Family's new show The Latest Buzz as Diane Jeffreys (abbreviated "DJ"), the editor and supervisor of the young writers of Teen Buzz. She then portrayed Leena on the Syfy series Warehouse 13 from the series's start in July 2009 until the midpoint of season four in October 2012. In 2014, Williams appeared in Lifetime's The Lottery.
Filmography
[
]
Film
[
]
Year
Title
Role
Notes
2004
My Baby's Daddy
Receptionist (uncredited)
2005
The Lazarus Child
Young Lizzie
2006
It's a Boy Girl Thing
Tiffany
2008
The Incredible Hulk
Terrified Gal
2008
Mookie's Law
Dahlia
Short film
2008
Saving God
Ashley Ellis
2009
Orphan
Sister Judith
2010
Running Boy
Sabine
Short film
Television[edit]
[
]
Year
Title
Role
Notes
2003
Eloise at the Plaza
Debutante Ruth
TV movie
2003
Wild Card
Sorority Pledge
Episode: "Hell Week"
2003-2005
Radio Free Roscoe
Kim Carlisle
15 episodes
2004
This Is Wonderland
Kiana Lewis
Episode: "1.11"
2005
More Sex & the Single Mom
Megan
TV movie
2005
Sue Thomas: F.B. Eye
Candy McNeil
Episode: "Secret Agent Man"
2005
Kevin Hill
Alyssa
Episode: "The Monroe Doctrine"
2005
Degrassi: The Next Generation
Mia
Episode: "Weddings, Parties, Anything"
2006
Doomstown
Monica
TV movie
2006
Banshee
Brenna
TV movie
2007
Degrassi: The Next Generation
Carla Carlisle
Episode: "Free Fallin': Part 1"


Episode: "Free Fallin': Part 2"

2007
Lovebites
Marissa
3 episodes
2007
The Note
Mandi
TV movie
2007-2010
The Latest Buzz
DJ
51 episodes
2008
The Tower
Sonia Taylor
TV movie
2008-2009
The Line
Michelle
8 episodes
2009
Taking a Chance on Love
Mandi
TV movie
2009
Flashpoint
Taraleigh
Episode: "Aisle 13"
2009-2013
Warehouse 13
Leena
Starring role in 11 episodes
2011
The Listener
Magda
Episode: "To Die For"
2012
Warehouse 13: Of Monsters and Men
Leena
Web series
2012
Lost Girl
Hessa
Episode: "Table for Fae"
2013
Republic of Doyle
Colleen Simms
Season 4 Episode 8 : "Multitasking"
2014
Bitten
Rachel Sutton
2018
The Expanse
Tilly Fagan
Season 3 (recurring)