First Appearance
Our Own Blood
Portrayed By
John Ralston
Sasha Antonov
is a character from the TV Series Bitten. He is
Elena
's biological father and a werewolf who went rogue. He is also the father of
Alexei
&
Katia
.
Early Life
Edit
Born and raised a member of the Russian Pack, Sasha was appointed by Roman Navikev to watch over his human daughter, Natayla Navikev. Sasha and Natayla fell in love and they had a daughter together, Elena. Sasha also revealed himself as a werewolf to Natayla.
Upon learning of this, Roman killed his own daughter but swore to kill Sasha and all who shared his blood. To protect his daughter, Sasha placed Elena in foster care overseas while he went on the run.
He met and fell in love with another woman, who had his two children Alexei and Katia Antonov. Roman and the Russian Pack managed to catch up with Sasha and forced him and his children to watch as they tore Sasha's wife apart. Somehow, Sasha rescued his children and they went on the run together from Roman's vendetta.
Throughout Bitten Series
Edit
Personality
Edit
Physical Appearance
Edit
When he is in wolf form,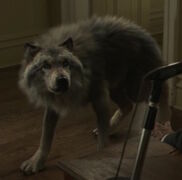 Powers and Abilites
Edit
Sasha possesses all the standard powers and abilities of a werewolf.
Relationships
Edit
Elena Michaels
Edit
Alexei Antonov
Edit
Katia Antonov
Edit
Elena's Mother
Edit
Community content is available under
CC-BY-SA
unless otherwise noted.