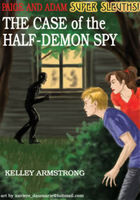 The Case of the Half-Demon Spy is a short story by Kelley Armstrong which features Paige Winterbourne and Adam Vasic in one of their childhood adventures. In this story we learn much about the way Adam views and feels about Paige.
At 14 years old, Adam and Paige are locked out of a council meeting...much to their disliking. When Robert Vasic presumably hands them $20 as a bribe to stop trying to eavesdrop, Paige and Adam agree to leave. However, on their way downtown they spot a man taking notes at the window of the council meeting. Adam recognizes him as an Exaudio demon that once made an unpleasant visit to his father.
Afraid that they won't have enough time to warn the council delegates before the half-demon spy makes a break for it (and Paige and Adam would rather handle it on their own anyways) they decide to take him on themselves. In the end, the half-demon spy escapes, but only after recieving 2nd degree burns from Adam. (He had previously only been able to induce 1rst degree burns). In a turn of events the story ends with Robert speaking to the half-demon spy, and revealing that the entire event was set up between Robert and the Spy to test Adam and Paiges courage and strength. Robert seems view pleased and sees a bright future ahead for the council with Paige and Lucas in charge.
Otherworld Series

Novels
Bitten, Stolen, Dime Store Magic, Industrial Magic, Haunted, Broken, No Humans Involved, Personal Demon, Living With The Dead, Waking the Witch, Spell Bound, 13
Anthologies
Men of the Otherworld, Tales of the Otherworld, Otherworld Nights, Otherworld Secrets, Otherworld Chills, Led Astray
Novellas
Savage, Ascension, Chaotic, Angelic, Counterfeit Magic, The Case of El Chupacabra, Beginnings, Bewitched, Forbidden, Hidden, Vanishing Act, The Ungrateful Dead
Short Stories
V Plates, The List, Chivalrous, Lucifer's Daughter, Learning Curve, Life Sentence, Twilight, Zen and the Art of Vampirism, Paranormal Romance Blues, Stalked, Rebirth, Infusion, Kitsunegari, Demonology, Birthright, The Case of the Half-Demon Spy, Expectations, Truth and Consequences, Territorial, Ghosts, Escape, Wedding Bell Hell, Adventurer, Bargain, Framed, Bamboozled, Young Bloods