We're Getting Mutants in the MCU - The Loop
Play Sound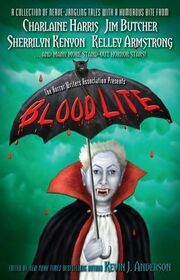 I see dead people. Unfortunately, they also see me.
One of the first lessons a necromancer learns is the art of playing dumb. When strolling down Fifth Avenue, searching for that perfect pair of shoes, pay no attention to the guy in the Civil War uniform. If he notices the glow that marks you as a necro, he will attempt to make conversation. Pretend you don't see him. With practice, you'll learn to finesse the act—pursing your lips, tilting your head, murmuring "Hmm, I thought I heard— Oh my God, would you look at those darling Jimmy Choos!"
Eventually, the ghost will decide you're untrained—or just plain stupid—and wander off before getting to the part that begins with "Say, could you do me a favor . . .?" Of course, one problem with playing dumb is that it seeps into your everyday life. But that has its advantages too. No one ever asks me to help with their taxes.
Characters
[
]
Otherworld Series

Novels
Bitten, Stolen, Dime Store Magic, Industrial Magic, Haunted, Broken, No Humans Involved, Personal Demon, Living With The Dead, Waking the Witch, Spell Bound, 13
Anthologies
Men of the Otherworld, Tales of the Otherworld, Otherworld Nights, Otherworld Secrets, Otherworld Chills, Led Astray
Novellas
Savage, Ascension, Chaotic, Angelic, Counterfeit Magic, The Case of El Chupacabra, Beginnings, Bewitched, Forbidden, Hidden, Vanishing Act, The Ungrateful Dead
Short Stories
V Plates, The List, Chivalrous, Lucifer's Daughter, Learning Curve, Life Sentence, Twilight, Zen and the Art of Vampirism, Paranormal Romance Blues, Stalked, Rebirth, Infusion, Kitsunegari, Demonology, Birthright, The Case of the Half-Demon Spy, Expectations, Truth and Consequences, Territorial, Ghosts, Escape, Wedding Bell Hell, Adventurer, Bargain, Framed, Bamboozled, Young Bloods